2023 Conference
We have secured the dates and location for our FAOG 2023 Conference. Mark your calendars to join us September 10-13, 2023 at the Town and Country Resort ( www.towncountry.com) in San Diego, CA for networking, learning, and fun!

This location is a little different than past gatherings, but gives us the freedom to be creative! The FAOG conference committees are working hard and looking forward to a fantastic conference in San Diego! Please check back in early/mid 2023 for more information regarding registration, sponsorships, agenda, hotel reservations, and more.

The conference fee for 2023 will be $350, and includes Sunday through Wednesday sessions, 3 breakfasts, 2 lunches and a grab and go lunch on Wednesday. Note about registration: Participants must be active members to attend the conference. Professional Advisors (non-community foundation members) must be an active member before registration opens, unless they are a speaker or sponsor, to attend the conference.

We have reserved a block of hotel rooms at the Town and Country Resort for $235.75 per night (includes taxes). You will be able to reserve your hotel room on the FAOG website as we get closer to the conference.

If you have any questions, please e-mail our Conference Manager, Sherrie Chelini at sherriechelini@earthlink.net or call at 206-310-5979.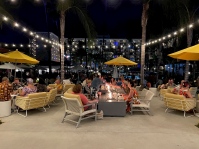 Picture Source: Town & Country Resort